We Have Important Work To Do
Produced for Ludum Dare 42 in August 2018, placing 3rd overall in humor and 16th in mood.
Created logos and icons, mock desktop UI, advertisements, and pop-up animations.

Rotoscoped an alien.
Spelleton: Skellord's Domain
Produced for Ludum Dare 43 in December 2018. Created enemy sprites, animations, and effects.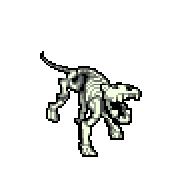 Produced for Global Game Jam 2018. Created the majority of all visual assets.